Last week, I had the chance of trying a place that I've heard so much about. A delicious, yet healthy restaurant that specializes in meal packages that will make your lifestyle even better. Not only that, they also offer usual takeaway and delivery items of their mouthwatering menu. Here's my experience at The NutriBox.
If you want to eat good, feel fulfilled, yet stay on a health diet, your only solution is The Nutribox. The menu offered at the Nutribox contains salads, appetizers, main courses, pastas, and desserts. Additionally, The Nutribox offers daily cooked meals which you can choose from.
The best thing about The Nutribox is that you can select any of their monthly packages, and never worry about what you want to eat everyday again:
The Monthly Full Box: offers lunch, dinner, salad, 2 snacks and dessert every day (except Fridays) – delivered straight to your doorstep.
The Monthly Half Box: same as the Full Box, except you will receive 1 snack instead of 2.
The Lunch Box: offers lunch and salad – delivered straight to your doorstep.
The Lunch Box Grill: Same as the Lunch Box, except everything you can select is grilled.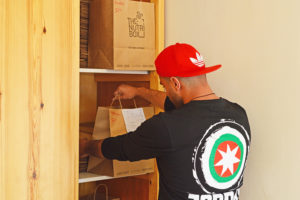 One thing I honestly loved about The Nutribox is how friendly their staff and team is. Everyone is so helpful, cheerful and certainly adds a good experience to your meal.
NOW LETS GET DOWN TO FOOD!
Honestly, everything we tried was utterly delicious. We even visited the kitchen, and everything was completely cooked healthy, clean and superior.
Don't forget to place your order with The NutriBox in Amman Jordan, or drop by their shop for a takeaway order.
Dont forget to checkout their Facebook Page and Instagram Account for some mouthwatering pictures.